New York Times Review
Height of Good Taste(S): How Cape May Became a Culinary Capital
by Robert Strauss - New York Times, July 2005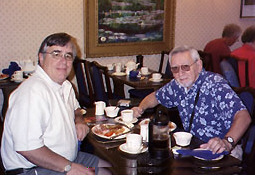 Legend has it that Harry Kulkowitz, a Philadelphia art dealer, was not out to start a culinary revolution but merely came down here to play poker with his friends.
But as Mr. Kulkowitz sat on the porch of the ramshackle Carroll Villa Hotel on evening in 1974, he envisioned the artsy and the urbane sitting on that porch eating, not the typical shore fare of the time - fried fish and overcooked crab cakes- but creative, arty and urbane dinners kissed by an ocean breeze.
Mr. Kulkowitz left the art world and bought the Carroll Villa and with his partner, Vicke Seitchik, opened the Mad Batter on that porch and a dining room within.
"Before the Mad Batter and another short-lived place called the Blue Rose, anything beyond stuffed flounder was out of the question," said Ed Hitzel, a former restaurant review for The Press of Atlantic City who now publishes his own restaurant magazines. " Suddenly , Harry brought in chefs trying new combinations and textures. They threw is against the wall , and I guess it got stuck."
A generation later, Cape May - at the southernmost tip of New Jersey - is considered on of the East Coast's culinary capitals. While shore fare elsewhere still seems to be stuck in that stuffed -flounder and crab-cake mode, at least a dozen high-end restaurants here are destination spots for food lover from New York to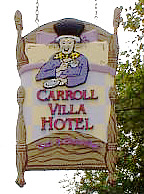 Washington and beyond.
A week-long vacation in Stone Harbor and Avalon, just to the north, still means - with few exceptions - pizza and cookouts. But in Cape May, visits to places like the Mad Batter restaurant with savvy and innovative menus and prices to match - are often factored into the vacation week.
Mark Kulkowitz, Harry's son who now operates the Carroll Villa and Mad Batter with his wife Pam Huber, said a key to the start of the Cape May restaurant scene was his father's hiring practices.
"He knew artist, and a lot of them had gone into the restaurant work in Philadelphia," the younger Mr. Kulowitz said. " He brought down people like Susan Trilling, who was a well known chef there, and Ed Dougherty, who were artists and willing to try new things. He had interesting people, and they took him on culinary trip, and he was receptive to whatever they w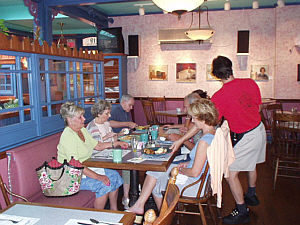 ere doing."
The Mad Batter is considered moderately priced these days in Cape May, and entrees there range from $19.50 for a salmon with wasabi and plum glaze to $32.00 for twin lobster tails.
Mr. Hitzel, whose magazine and newsletter chronicle the South Jersey restaurant scene, says things are not likely to change here in the near future.
"They ( the Mad Batter) has used the Victorian theme to extend the season, which is really almost all year save for Midwinter now," he said. "The restaurant keeps getting good reviews. There are some good restaurants up the coast, but Cape May now has the reputation and the year-round draw."
As he put it, " I don't think it will be back to stuffed flounder anytime soon here.